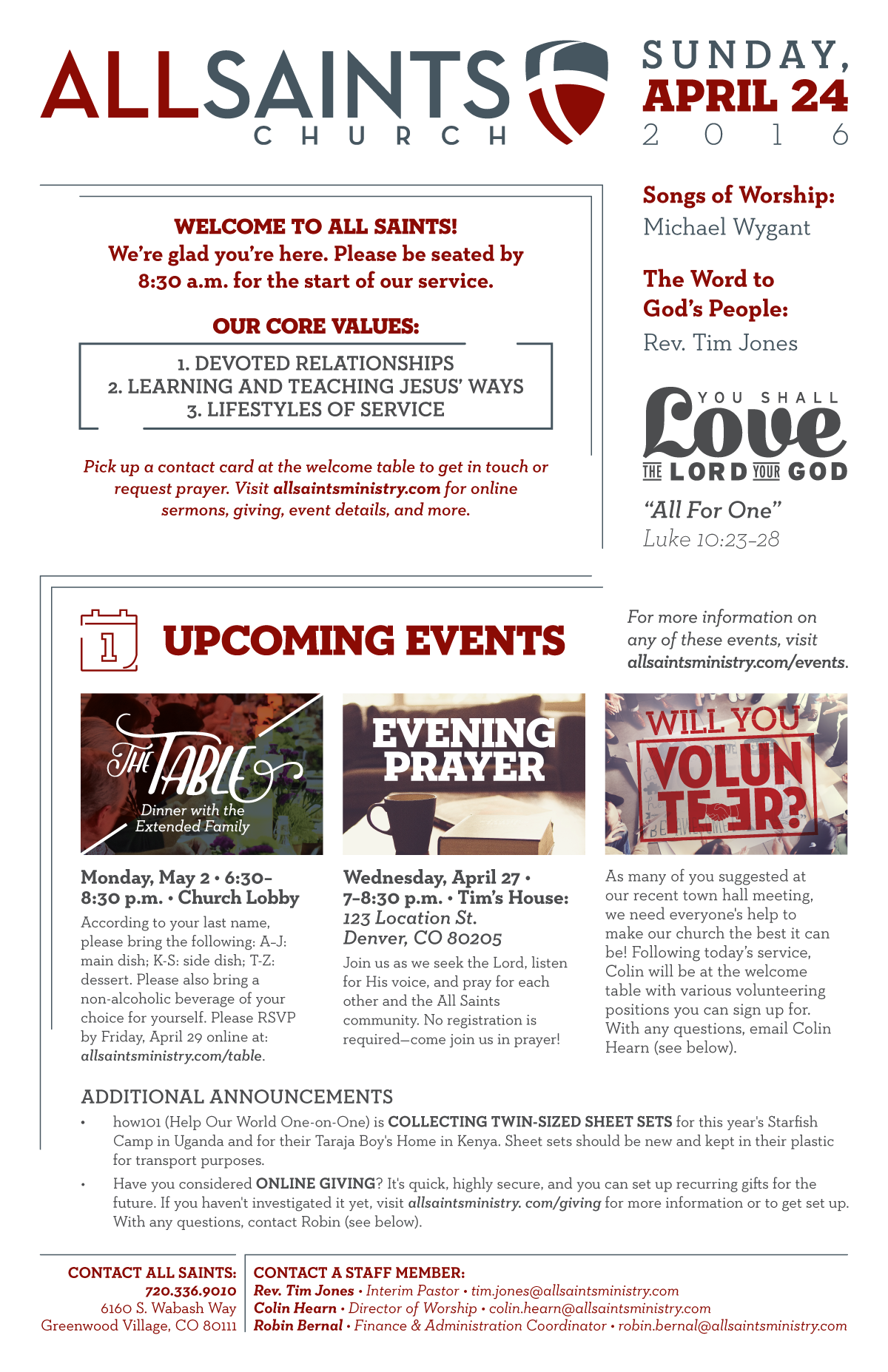 Publication • All Saints Church • April 2016
The old bulletin at All Saints (which we did on contract for them, pre Art /Rhetor in 2013), had lots and lots of content, unused space, and a tear-off section for prayer requests and collecting visitor info. We realized that we were printing things in their bulletin every week that didn't need to be distributed that way, and it was causing us to use a ton of paper—with an expensive perforation! We were basically printing a contact card with every individual bulletin, most of which were being discarded after each service. There was also a ton of static artwork for a welcome section, core values, and contact information that we felt could be done more efficiently.
Our cost-saving, efficiency-enhancing solution was a single half letter-sized sheet. One side has all the "data" that a bulletin exists for: service details, upcoming events with artwork, core values/mission, contact info, etc. The other side is entirely sermon series artwork. Why would we do that when we're trying to save space and costs? We believe that a lot of rhetorical work happens through artwork, engaging the heart of the community with the presented Word. We invest a lot of time into that artwork, and sending everyone home with a 5.5×8.5″ print of it is an active, equipping thing! The artowork is scriptural, hopefully really beautiful, and definitely based on what their church is currently learning together. We hope these bulletins wind up on fridges and pinned up at desks where people work, etc. Additionally, this artwork changes roughly once a month, so it's dynamic and often gives that "Oh this is new!" feeling.
To preserve prayer request and visitor info collection functionality, we developed a new, matching prayer/contact card (see below), which we now have to print much more seldomly.
Click here to see a sample of All Saints' old bulletin.